Children's Entertainer Cheshire
Your local children's entertainer for Cheshire
Est. 1986 with more than 5,000 happy clients. Check out the testimonials page.
"Paul is quite simply the best children's entertainer you could hope for. From the moment you book your party you know you are in safe hands. Courteous, professional, punctual to the minute and a wonderful performer who will deliver every time. You will not be disappointed and neither will your guests. Thank you Paul, it will be a party Aaron will treasure for a long time to come." Gwenda Donaldson, Bolton.
"I would just like to say a huge thank you for making Jennifer's party such a great success. She had a fantastic time and it will certainly be a birthday that she will remember. As a teacher I know how difficult it is to engage children for a length of time , but you have a lovely, professional manner with the children and kept them involved all the time with the different elements of your performance. I had a lot of positive feedback from the parents and I certainly wouldn't hesitate in recommending you to others. You certainly did take the 'stress' out of the party! Thanks again." Pam Jeffs. Northwich.
Looking for the no.1 children's entertainer for parties in Cheshire? Paul Storey is the children's entertainer with a 100% satisfaction guarantee for your next birthday party or event. Just check out the testimonials for your guarantee of a great children's party. Over 1,000 Facebook Likes!
Are you looking for a children's entertainer that serves the Cheshire area and provides a clean fun unique family show?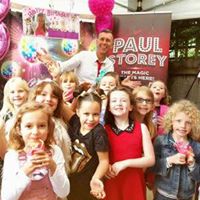 A children's entertainer you can trust to be professional, that arrives early to set up and that loves his job?
A birthday party magician that can take the stress out of your party by organising games and running the whole party?
Just provide the children, food, cake and venue and Paul will do the rest. Lots of games, magic, unique puppets, prizes and even a snow machine.
Paul has more than 30 years of experience and entertains more than 9,000 children every year at birthday parties, Christenings, Weddings and family get-togethers.
Paul gets booked year after year by parents, schools, libraries and holiday parks.
To check availability and to find out more click the quote button below for your FREE no obligation quote. Professional, reliable and friendly service.
Get your quote today.
Tel: 01744 731507