Paul has performed his shows for Fetes, Galas and Parks all across the North West.
Est. 1986 with more than 5,000 happy clients. Check out the testimonials page.
"Paul is quite simply the best children's entertainer you could hope for. From the moment you book your party you know you are in safe hands. Courteous, professional, punctual to the minute and a wonderful performer who will deliver every time. You will not be disappointed and neither will your guests. Thank you Paul, it will be a party Aaron will treasure for a long time to come." Gwenda Donaldson, Bolton.
Just some of the Parks and Galas Paul has worked at include:
Sherdley Park St.Helens, Taylor Park St.Helens, Victoria Park St. Helens. Crank Gala, Rainford Summer Festival, Nant Mill Visitor Centre Wrexham, Ty Mawr Country Park Wrexham, Haigh Hall Country Park, Hartford Summer Festival, Haydock Park Racecourse NHS Fleet-hire, Ponciau Banks Park Wrexham, Victoria Park Swinton.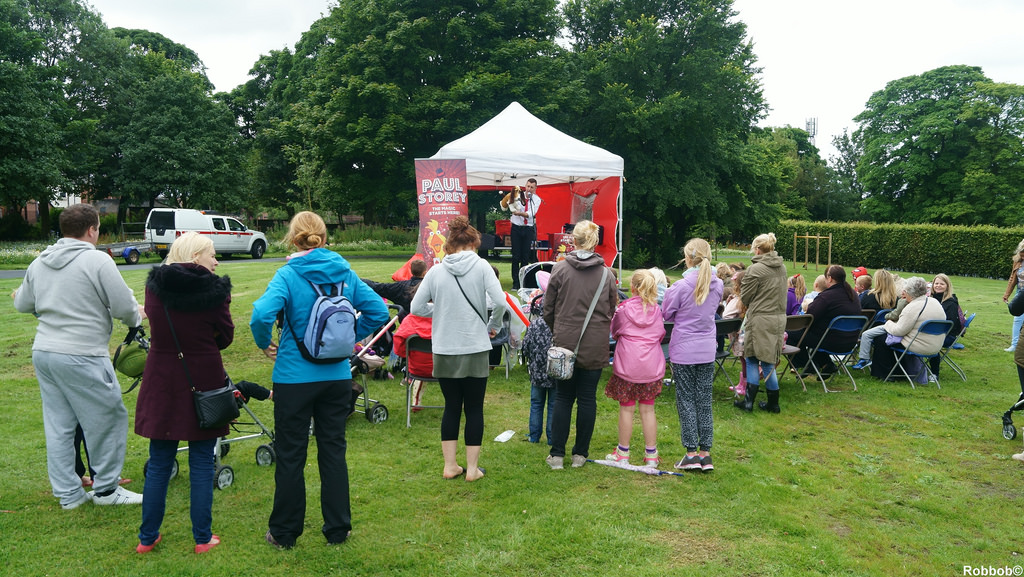 Some of Paul's past clients include: Virgin & MGM Cinemas, The Trafford Centre, Bolton School, Peugot, Vauxhall, De Vere and Hilton Hotels, Haydock Park Racecourse, NHS Fleethire, Liverpool Maritime Museum, The Tate Gallery, Southport Council, Liverpool Central Library, Wigan Libraries, St.Helens Libraries, Sky, Haigh Hall Country Park, Arley Hall Cheshire.
Paul can perform shows throughout the day, with magic, ventriloquism, plate spinning, audience participation and is a great addition to any event that attracts families. He brings along his own sound system and microphone.
Paul has full Public Liability Insurance, Risk Assessment, Pat Test Certificate and a DBS.
"Paul has been entertaining children at the Councils Parks Fun Days for many years. Every year he is the first person we book.
He never fails to keep all the children and adults entertained with his magic & puppets. I can't wait to book him for my own grandchildrens parties when they are old enough. He's wonderful!" Brena John, Wrexham Country Parks.
"I would like to thank you for all of your hard work on the Victoria Park Family Fun Day. The effort that you put in on the day was invaluable to us. It is to your credit that you can provide such a high quality show to so many people at one time, and still remain professional at all times.
I received positive feedback from a number of people on the day about your magic show.
Probably the highest praise that I can give is that I would definitely recommend you for use on future events.
I would also like to thank you on behalf of the people whom attended the event for your professional attitude towards them, when speaking to both parent and child alike." Barry Fleetwood St. Helens Rangers
Paul gets booked year after year by parents, schools, libraries and holiday parks.
To check availability and to find out more click the quote button below for your FREE no obligation quote. Professional, reliable and friendly service.
Get your quote today.
Tel: 01744 731507